Membershipcard, how do I get one or renew my old?
You get your membership card by fill in the form you find here: Membershipcard
That is also the same form you use to renew your old card.
Do not forget the first time to also send a passport-size photo of yourself to [email protected]
Remember to indicate your name in the mail.
Where do I fill in the application?
Can I have a support or scholarship for the course?
Yes, our Courses are recognized by the Bundesministerium für Bildung und Forschung, so you can see the information Below and ask for a Bildungsprämie (or Gutscheinbildungsprämie) that will under certain circumstances provide you the 50% of the Levell Course cost.
More Infos under:
https://www.bildungspraemie.info/de/weiterbildungsinteressierte-17.php
I cannot attend the course - can I repeat it?
Yes, there are two solutions: either start the next session an hour earlier and repeat the theory of the missed class, or follow the module in another language. We offer sommelier courses in German, English, Italian. In addition, you can follow the lesson online.
I have no idea about wine – is it a course for me?
Yes, of course! Our sommelier course is planned to take you into the world of wine from the entrance gate, no previous training necessary, just curiosity and interest in the wine world.
Is the obtained sommelier certification recognised in Germany?
Yes, the Europäische Sommelier Schule is a branch of the European School for Sommeliers, an internationally recognised training centre in the European Union for wine and gastronomy subjects. In Germany we are recognised as a school by IHK with membership number 5012183 (IHK Hannover).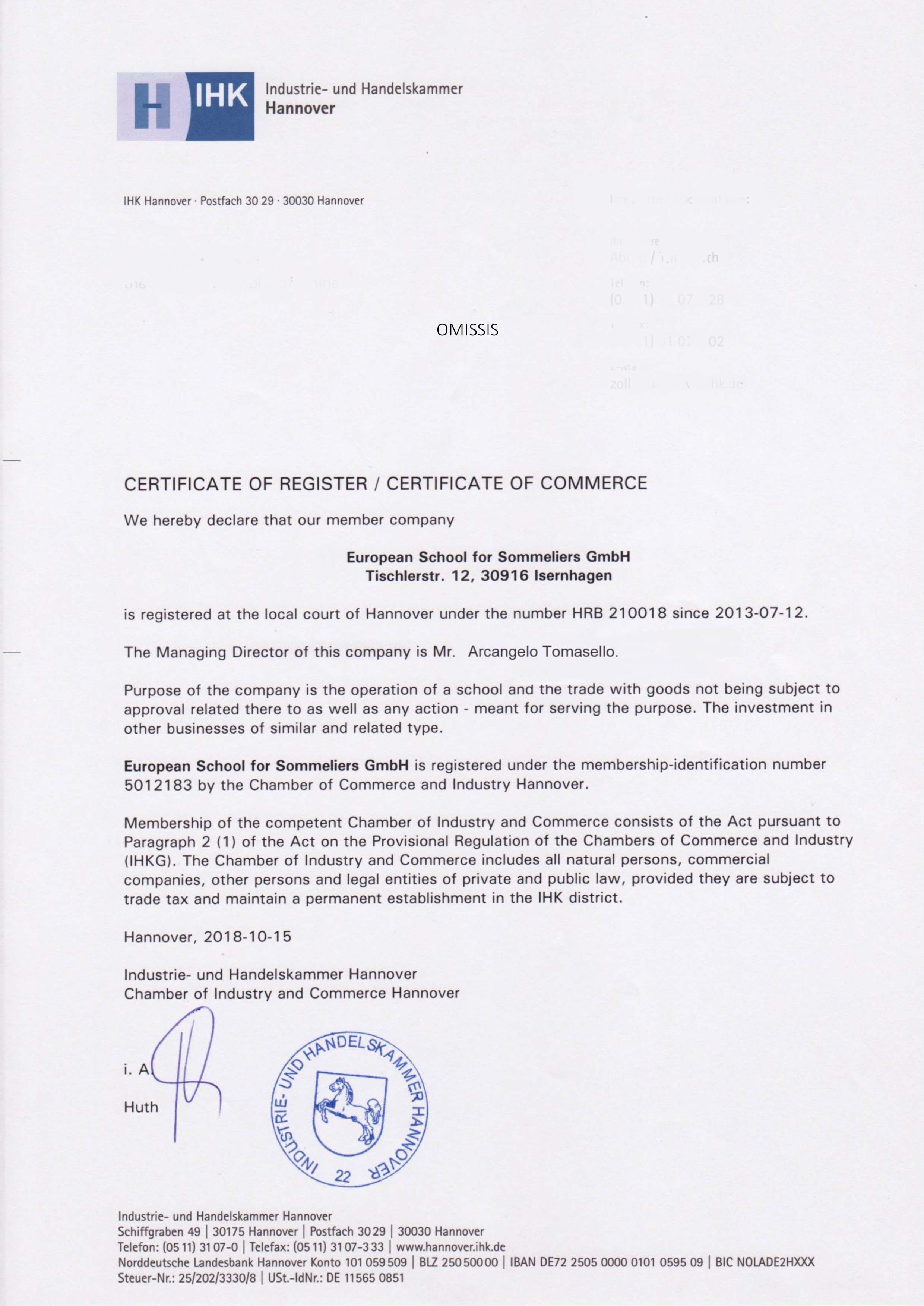 Sommelier course only? I want something else!
We offer seminars, wine tastings events, wine & meals combinations, wine tours, introduction to the wine world courses and much more than just courses.
What is the programme for the sommelier certification?
Every student, who wants to obtain the sommelier certification, needs to successfully complete Level 1, Level 2 and Level 3 courses with written exams after each course and practical Sommelier exam including service and blind tasting after the last Level 3 course.
For more information, please check our Course Page.
I´ve lost my Diploma/Card, how can I have a duplicate?
While finished the Course and passed the exam, we are used to have a local celebration, a Party, during that we give the Diplomas.
If you have lost it, we can replace it with an additional cost of 50,-€ plus delivering costs, same for the Membership card.
Don't you find what you are looking for?
Please submit your question here and one in our team will answer you.